At the end of last year the Executive Committee began the process of reviewing the Saints uniforms. Our aim was to modernise the design and bring the Junior and Senior uniforms into line to give the whole club a cohesive look. A survey was sent to all members of the club with the results due last December. This survey yielded a tie between option 1 and option 3. Samples of both options were produced. The Executive Committee then reviewed these samples along with the current senior and junior uniforms taking the best elements of each to finalise the new design: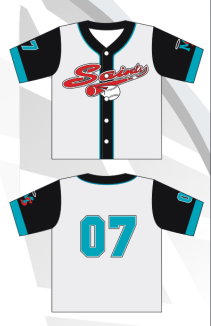 The rollout of the new shirts will occur in two phases:
First phase - rollout of shirts to the senior players in the Winter 2014 season. These shirts can be purchased through the Saints Store.
Second phase – rollout of shirts to senior and junior players in the Summer 2014/15 season. These shirts can be purchased at the time of registration.
The Executive has managed to secure sponsorship from the Ranch for the new shirt allowing us to subsidise the price of the shirt for returning players. New players will be required to pay full price.
For the first phase in the rollout, players can have a name printed on their shirt as part of the production process. They can also nominate their preferred uniform number. In the event that more than one request is received for a particular number, then preference will be given to the player that currently has the number.
When ordering shirts, please enter the Size, Name and Number into the Comment field on the order form. The shirts are a generous fit in sizes XS, S, M, L, XL, 2XL and 3XL. The Name is the name to be printed on the back of the shirt. The Number is the requested uniform number.